Upcoming Events
| | |
| --- | --- |
| Dec 15 | Tenative Opening Day! |
| | |
Runs Open- 12/10/18
| | |
| --- | --- |
| Easiest | |
| Learning Area | Closed |
| Big Bird | Closed |
| Alpen | Closed |
| Flintlock | Closed |
| Sly Fox | Closed |
| Reindeer | Closed |
| Buckshot | Closed |
| Trigger | Closed |
| Back Bowl West | Closed |
| Oxbow | Closed |
| Shotgun | Closed |
| Passenthru | Closed |
| | |
| --- | --- |
| More Difficult | |
| Little Horn | Closed |
| Powderkeg | Closed |
| Back Bowl East | Closed |
| Bovidae | Closed |
| Dynamite | Closed |
| Ricochet | Closed |
| Lower Smoke | Closed |
| Caribou | Closed |
| Musket | Closed |
| Tamarou East | Closed |
| Tamarou West | Closed |
| Sling Shot | Closed |
| Crazy Trail | Closed |
| Ramrod | Closed |
| Firecracker | Closed |
| Bovidae West | Closed |
| Lower Tamarou | Closed |
| Upper Double Barrel | Closed |
| | |
| --- | --- |
| Most Difficult | |
| Vertical Drop | Closed |
| Bullet | Closed |
| Thunder | Closed |
| Cannonball | Closed |
| Louie's Chute | Closed |
| Katie's Catwalk | Closed |
| Double Barrel West | Closed |
| Blunder | Closed |
| Upper Smoke | Closed |
| Double Barrel | Closed |
| Full Choke Chute | Closed |
| Half Choke Chute | Closed |
| Don't Chute | Closed |
| Crosshair Chute | Closed |
| Glen's Trail | Closed |
| | |
| --- | --- |
| Terrain Parks | |
| Recoil Park | Closed |
| Powderkeg Park | Closed |
Mountain Maps
Trail Map
Printable Trail Map (PDF)
Terrain Park Maps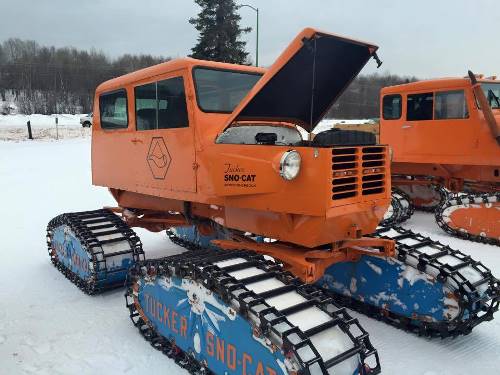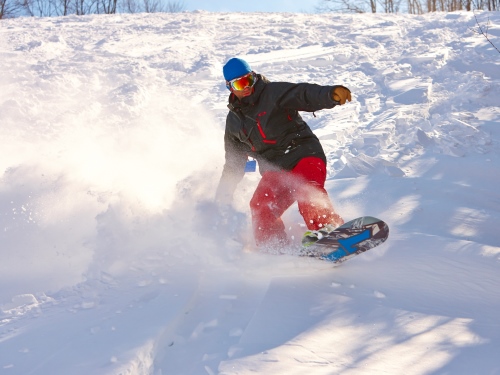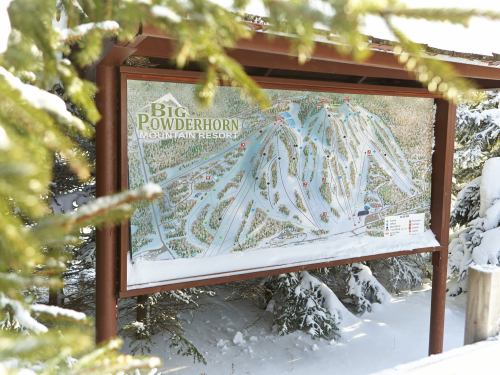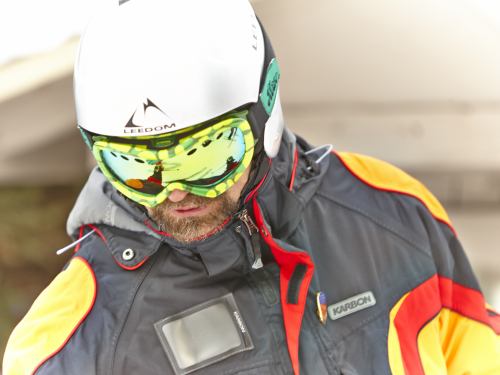 Ski Area information
Trails: 45 (35% novice, 35% more difficult, 30% most difficult)
622 Vertical Feet
Multiple Terrain Parks
Total Skiable Terrain: 253 acres
Longest Run: 1 mile
Lifts: 9 double chairs and a beginner handle tow
Uphill capacity: 10,800 skiers per hour
Snowmaking: 93% of terrain
SKIING HOURS
Open 7 days a week, Ticket office open at 8:00 am
Lift open 9:00 am to 4:00 pm
Snow Sports School
Don't groan and roll your eyes - this isn't like going through third grade again. Lessons are very helpful if you are: new to skiing or snowboarding; wanting to master a certain technique; trying to dump a bad habit; trying to feel more in control or just wanting to enjoy your skiing/boarding more. A good technique "feels" as good as it looks - there's a reason those smooth riders are grinning ear-to-ear! The best thing a new skier/boarder can do is start with an introductory package that includes lesson, rentals, and lift tickets.
"LEARN IT & LOVE IT" BEGINNER SPECIAL
Recommended for the first time or never-ever skier or boarder age 8 & over. Includes one lesson, ski or snowboard rental, and Beginner Slope lift ticket. Learn to stand, slide, stop, turn. Please call ahead for availability.
Ski Package - $68
Snowboard Package - $75
POWDER CUB (ages 4-7) - $50
1 hour private lesson
(lift ticket and rental not included)
SEMI-PRIVATE LESSON (1.5 hours)
Two people - $90
Three people - $120
Four people - $150
Five people - $180
(lift ticket and rental not included)
PRIVATE LESSON (1.5 hours) - $70
(lift ticket and rental not included)
Current Conditions
Updated: December 10, 2018

Base
0
New Snow 24 hrs
New Snow 48 hrs
0
Snow YTD
44"
Surface
CLOSED
Trails Open
0 of 45
Terrain Parks
CLOSED
Local Days Sunday-Thursday
Lift ticket prices on our website are the

only

accurate pricing source. No other website prices will be honored.

Current Conditions from
our Weather Station
at the Top of Chair #4